I`m currently moving to another appartment... I´m so sick of packing moving boxes now! x__X
This is the first time that I really hate my shoe collection (3 boxes!!1! dammit. xD")... I packed them so super carefully, because I`m afraid of even just little scratches on it... I started hating this kind of perfectionism after box No. 2. xD" It took me 2 hours until every pair was carefully wrapped and packed... damn. ~__~
Yay-moment of the day:
I found a yumetenbo sales promotion flyer with lot´s of Sakurina photos between my documents! lol
One of her photos has got poster size, so I definately know what I`m going to put on the walls of my new apt first. :´D
Nay-moment of the day:
...shoe box No. 3? xD" Aaaah, no - I accidentally broke the glass of my coffee can. How am I going to survive this whole moving process without fresh coffee??! Dx
I´ll write the next post at my new apt - so wonderful ♥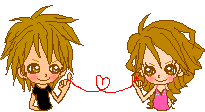 It´s such a sweet, sweet life, isn´t it?